Anchorage is Alaska's largest city and is both a culturally-rich destination by itself and a gateway to Alaska's majestic scenery and rugged wilderness. Try to spend 3 days here if you can; there's plenty to do. Here's our list of the best things to do in Anchorage: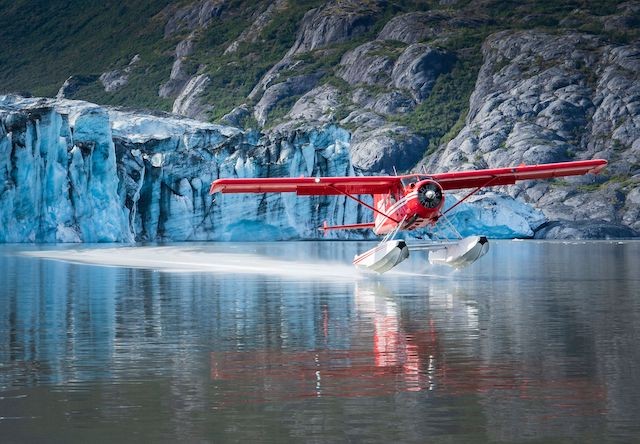 Anchorage is surrounded by glaciers, and a helicopter tour is the best way to take in their massive scale. On a typical helicopter or flightseeing tour, you'll fly over the majestic mountains of ice and then have the opportunity to spend 30 minutes walking atop and exploring the glacier. In Anchorage, you have a few options to add onto your helicopter tour if you want an extra adventure: from fishing, to dog sledding, to hiking and rafting.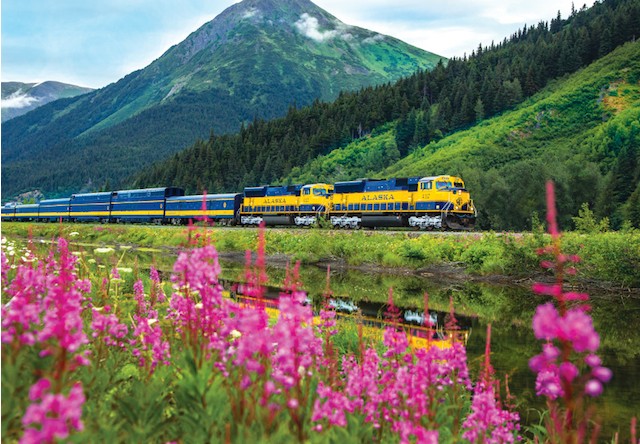 If you are a train person, the Alaska Railroad offers some of the most serene, scenic train rides in the country. You can travel through Alaska's backcountry, with views of forests, rivers, mountains, and glaciers (and wildlife!) to reach some of Alaska's favorite destinations.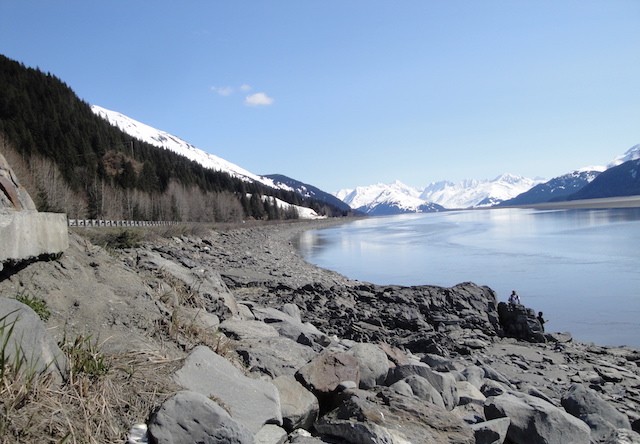 Turnagain Arm is a waterway just south of Anchorage, and the drive along it is one of the most scenic stretches of highway in Alaska. With water to your right and the mountains and glaciers of Chugach State Park to your left, it's a drive you'll never forget. If you don't have a car, there are a lot of great tour options that include stops at the Alyeska Tram and the Alaska Wildlife Conservation center. If you're headed to Whittier to take off on a cruise, the Anchorage to Whittier bus tour also takes this scenic route.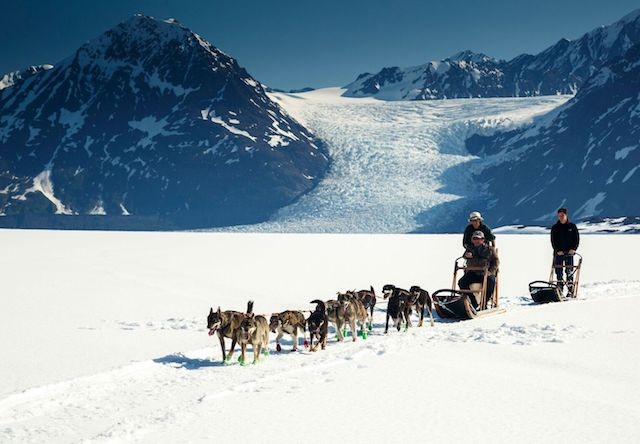 If you're in Alaska for a cruise, chances are you may have already planned a dog sledding shore excursion. If not, Anchorage is a great place to experience one of Alaska's most fun adventures. You'll take a helicopter ride over glaciers and icebergs, often spotting wildlife like moose or bears along the way, then land at a musher's camp on Troublesome Glacier for a dog sled ride.
Dog sledding tours are among visitors' favorite activities on their Alaskan vacations. They're very family-friendly, too – it's not uncommon to see three generations enjoying their ride together.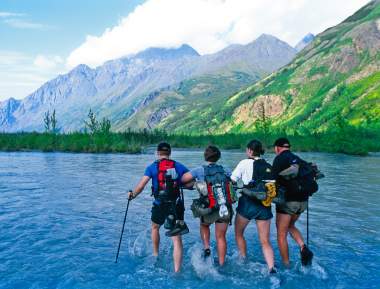 If you have a morning or afternoon to spare, try a 2- to 5-mile hike at Chugach State Park. It's an incredible half-million acre state park just outside of Anchorage. It's a microcosm of what makes Alaska great: mountain views, forest, rivers, wildlife, and, of course, glaciers. There are 280 miles of trails perfect for hiking and exploring, so there are definitely options for a more advanced hike, but you can also get picture perfect views just a few steps from the parking lot.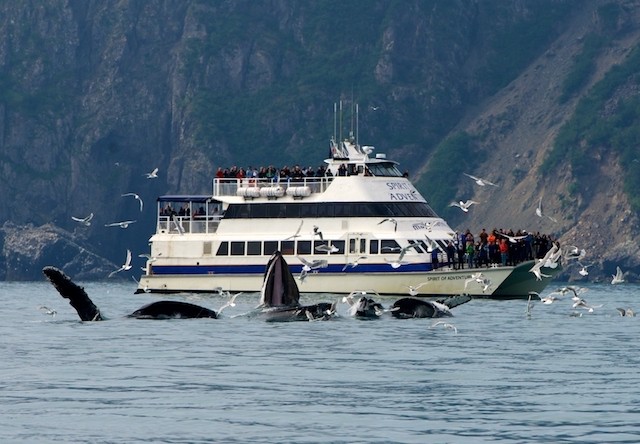 Seward is home to Resurrection Bay and Kenai Fjords National Park, a great place to cruise, whale watch, and take in glacier views. You can get there in 4 hours on the Anchorage to Seward train. Ideally, try to spend a night or two in Seward. Spend one day on a Kenai Fjords tour. Then spend your second day exploring many of the other things to do in Seward, like hiking, walking the Waterfront Park, or trying a helicopter tour before traveling back to Anchorage.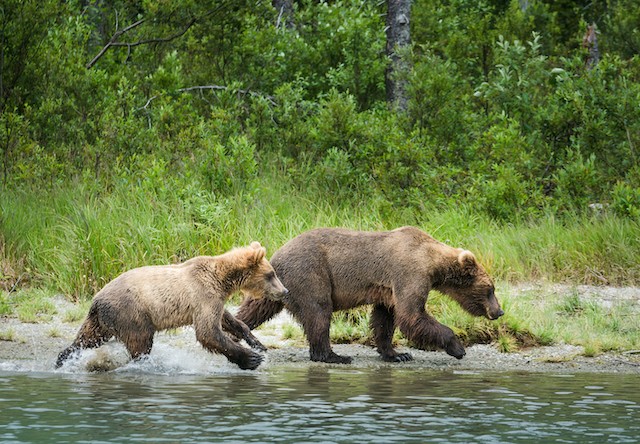 Alaska is known for its Brown and Black Bears, and Anchorage offers ample opportunities to experience them up close. You can choose from a few different types of tours, but the most common experience is a pontoon boat ride, where you can view the bears in their natural habitat – fishing for salmon on the shore.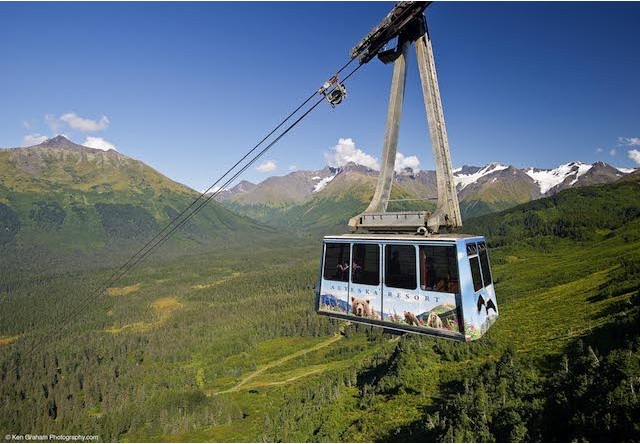 The Alyeska Aerial Tram is a quintessential Anchorage experience and a great way to take in 360 degree views of Turnagain Arm, glaciers, and mountains. (And, in the summer months, often wildlife like bears and moose down below.) The tramway climbs 2,300 feet from the Alyeska Resort to the top of Mount Alyeska.
The tram ride itself is a 3- to 7-minute ride, so we recommend making it part of a larger outing. You could see it as part of a bus tour of Turnagain arm, a bike ride, or add on a glacier cruise.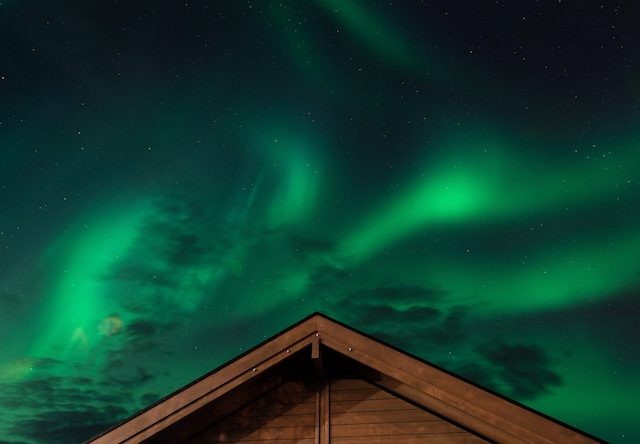 This one *almost* doesn't count as something to do in Anchorage, but it's a popular add-on for those with time to spare. The Alaska Northern Lights are a beautiful and majestic phenomenon, and Fairbanks is one of the best places to view them. To get there, you can take the 12-hour Anchorage to Fairbanks ride on the Denali Star Train. Viewing the lights is weather dependent, so, if you can, try to spend 3 nights in Fairbanks to maximize your odds. A typical itinerary is to spend your nights looking for the Northern Lights. Then, sleep in in the morning, and use your afternoon for adventures like visiting a Hot Springs or touring the Arctic Circle.
The Alaska Wildlife Conservation Center is a sanctuary for animals and birds in Girdwood, Alaska, about an hour outside of Anchorage. You can walk, bike, or drive the 1.5 mile loop to view Bison, Bears, Elk, and Moose. If you're in Anchorage without a car, these Alaska Wildlife Conservation Center tours include transportation. You can also include a visit if you're traveling to Seward or Whittier via bus tour.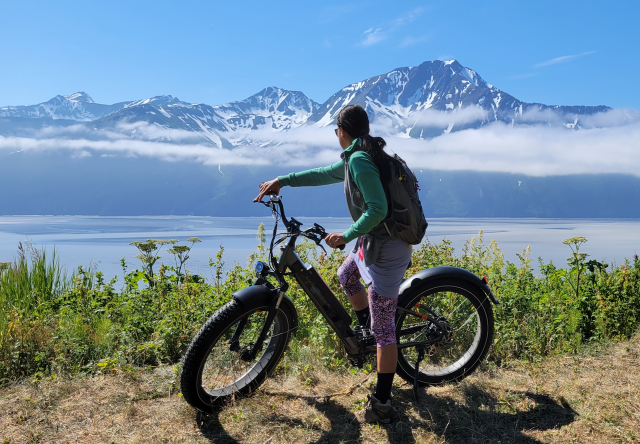 Anchorage and the surrounding area is full of epic bike trails with breathtaking views. You can ride along the coast on the Tony Knowles Coastal Trail or cruise Turnagain Arm on a traditional or e-bike. Don't worry if you didn't bring you ride, there are plenty of options for bike rentals and tours.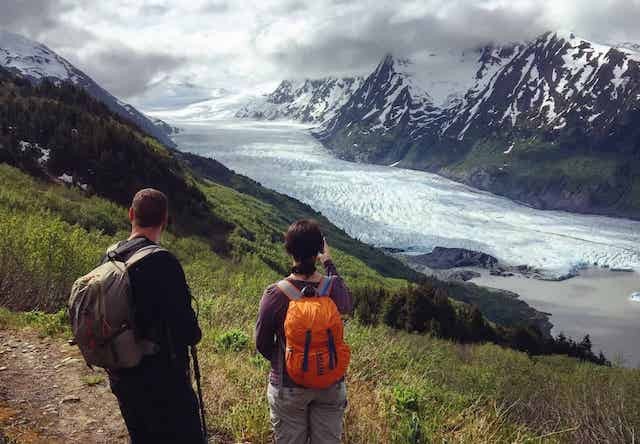 If you are the adventurous type, this will be your best full-day adventure in Alaska. Hands down. The day begins with a helicopter ride to Comet Glacier. Then, you hike (downhill!) for 6 miles to Spencer Glacier Lake, where you'll relax with a catered lunch and hot drinks. From there, you take off on a 7-mile rafting adventure down the Placer River Valley before riding the Glacier Discovery train home. This excursion has all the best things about Alaska, including the thrill of seeing the wildlife and backcountry up close.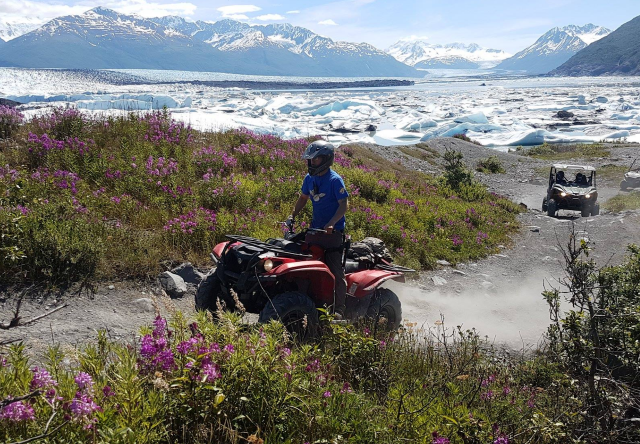 The Knik Valley is a hidden gem, just outside of Anchorage. You can spend a half-day there on an ATV enjoying 25 miles of rugged terrain on an off-road trail, navigating dry riverbends, creeks, and other fun (but totally doable) obstacles. The scenery is gorgeous, and it's a great way to unwind and have fun.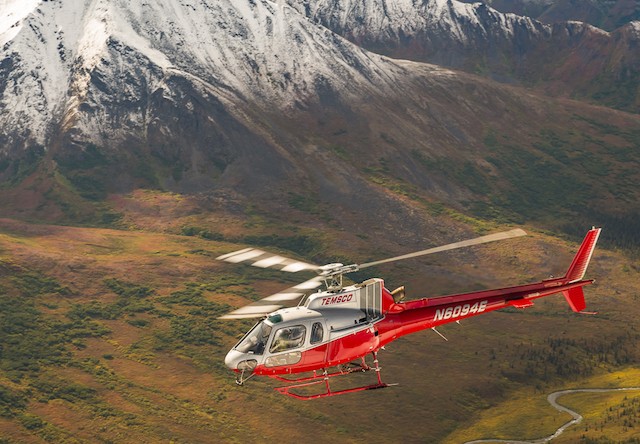 If you have a couple of days to spare, Denali National Park is an 8-hour, gorgeous train ride from Anchorage. While there, you can explore Mt. Denali, which is the highest peak in North America. The park and surrounding area is a delight for hiking, ATVing, and rafting. If you can, also make time to visit Jeff King's Husky Homestead to cuddle sled dogs and learn about the Iditarod team.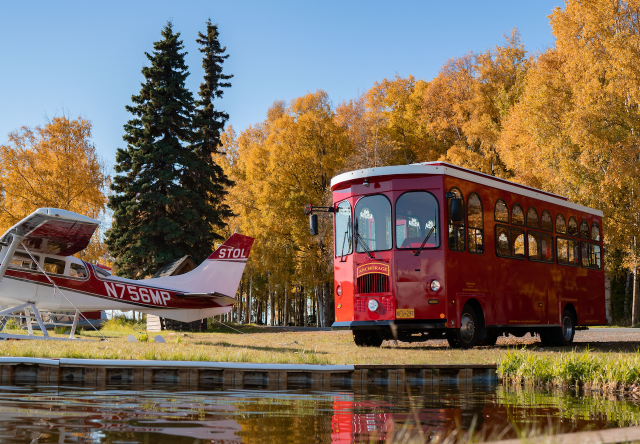 Finally, don't forget to enjoy Anchorage itself while you're here. The 2-hour Deluxe City Trolley tour is a great way to take in the sights of Anchorage and learn about its rich history and culture. You'll be able to get out at each stop, ask questions, and take pictures.
For more things to do in Anchorage, check out our Anchorage Tours. You can also read our guides for the best things to do in Juneau, Skagway, Ketchikan, Denali, Icy Strait, Seward, and Sitka.
FAQ
What are the best tours in Anchorage?
The best Anchorage tours are:
Can I see bears in Anchorage?
Yes! Anchorage is a great place to view bears and other wildlife. The top tours are:
What are the best Anchorage train routes?
The Alaska Railroad departs from Anchorage. The best Anchorage train routes are: