Ketchikan, Alaska is the sourthernmost entrance and gateway to Alaska's Inside Passage, which is a route of waterways known for its history, abundant wildlife, and awe-inspiring scenery. But Ketchikan is also a vibrant destination in its own right; the port is rich in culture and things to do. Whether your want to stay in town and explore on your own or embark on a once-in-a-lifetime excursion, our list has you covered.
When you arrive, you can stop by the Ketchikan Visitors Bureau at Berth 2 to get maps and tourist info. The whole town of Ketchikan is only 3 miles long, and the downtown is about 4 square blocks, so you can easily walk and explore the town before or after you head out on larger excursions and adventures.
Here are the 10 best things to do in Ketchikan: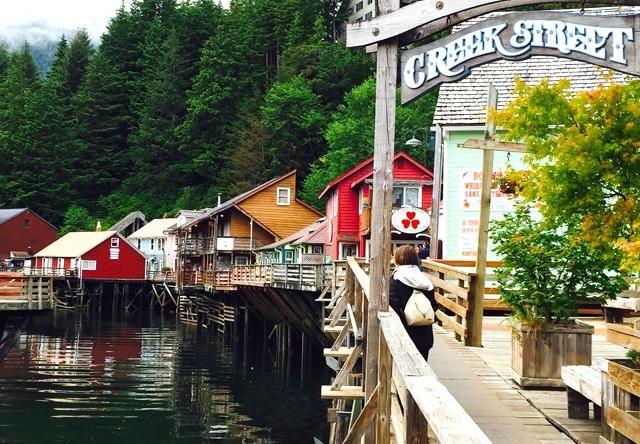 Ketchikan is known as "Alaska's First City" and its iconic Creek Street is a must-visit. The stilted buildings look over Ketchikan Creek and are the perfect place for shopping, dining, and sightseeing.
You can explore the shops and restaurants on your own, watch for salmon, visit the Dolly's House Museum, and more. If guided tours and local brews are more your style, though, you can check out the Ketchikan Pub Crawl.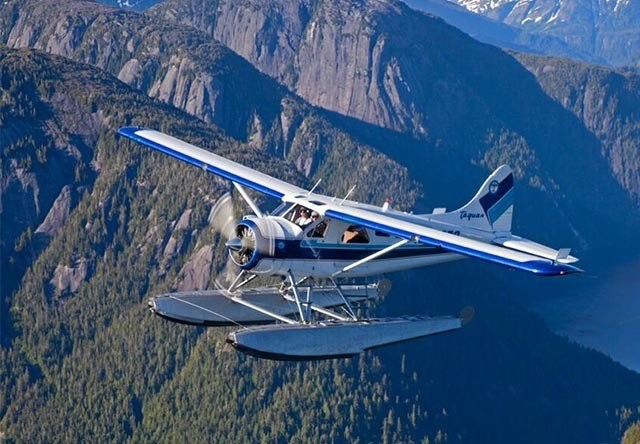 Misty Fjords National Monument showcases some of Alaska's most picturesque landscapes: snow-capped mountains, crystal clear lakes, rocky ledges, waterfalls, wildlife, and more. Located just 22 miles East of Ketchikan within Tongass National Forest, it is a must-see experience.
You can choose to fly over, which will allow you to see the magnificent 1,000 foot waterwall lowing from Big Goat Lake that's only visible by air. Or, you can take a boat tour into Punchbowl Cove to experience the lakes and fjords.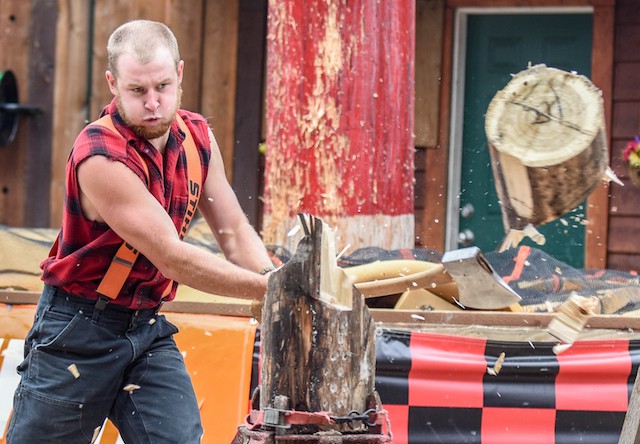 The Great Alaskan Lumberjack Show is a family favorite. You can learn about Alaska's logging history and take in a fun and exciting piece of history: once a year, all of Ketchikan would celebrate their logging heritage at the annual Timber Carnival. At this show, you'll get stories of lumberjack history & lore along with thrilling displays of agility and strength.
Afterward, you head to the rustic and elegant George Inlet Lodge for a steaming hot and delicious Dungeness Crab Feast. The menu includes salad and yummy cheesecake with Alaskan blueberry topping for dessert.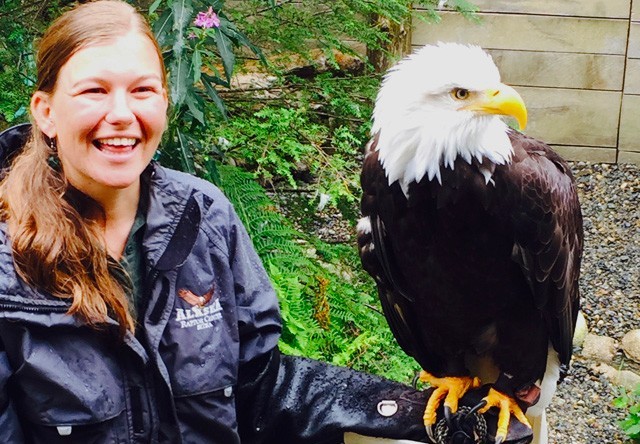 The Alaska Rainforest Sanctuary is a private reserve in the forested mountains at rustic Herring Cove. Its home to bald eagles, black bears, seals, and a variety of other species that are attracted by the salmon runs.
On this tour, you also have the opportunity to watch a master totem pole carver at work. You can also see and photograph bald eagles up close.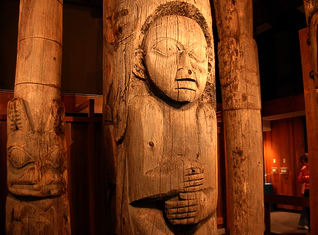 The Totem Heritage Center is a museum in Ketchikan focused on Tlingit, Haida, and Tsimshian history and peoples. You can learn the historical context, artistic approach, and cultural traditions of totem poles.
During the Gold Rush era, loggers, miners, and fisherman would spend their evenings visiting Ketchikan's red light district. Dolly's House Museum is the only "den of iniquity" that still stands today. You can find it at 24 Creek Street - the green doll house looks a lot like it did back then.
Head inside to learn about its history and the women who worked there. You can also take a peak inside the "secret closet," where liquor was stashed during the Prohbition. Admission is .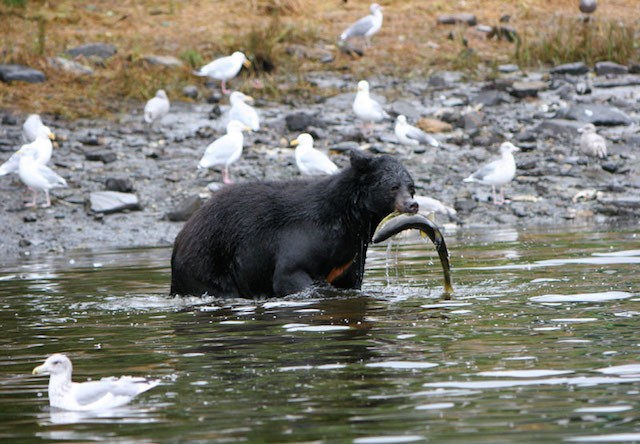 Ketchikan has the highest Black Bear population per square mile in North America. From July through October, you can watch for bears, whales, sea otters, sea lions, seals, bald eagles, and more.
Depending on your interests, you can make bear watching the focus of your excursion, or watch for bears as you travel by boat or plane.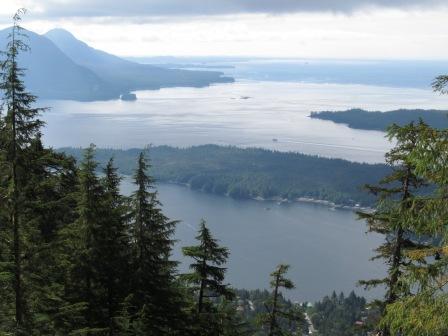 The Deer Mountain trail is a 2.5 mile hike from trailhead to its summit, with a 1 mile overlook with spectacular views. To best enjoy the hike, check out these guides from Experience Ketchikan and AllTrails.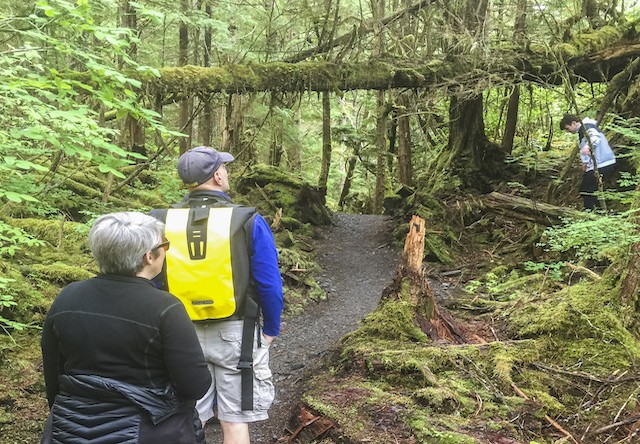 Tongass National Forest, covering 16.7 million acres, is the nation's largest national forest. From Ketchikan, you can explore it by boat, by air, or on foot. Its home to many types of wildlife, including endangered species, and stunning lakes, glaciers, and mountains.
Take a quiet stroll through City Park in Ketchikan, which runs adjacent to Ketchikan Creek, which is a great place to watch the salmon run in the summertime. City Park is a great place for a picnic, too.
This is a nice stroll to take before or after an excursion.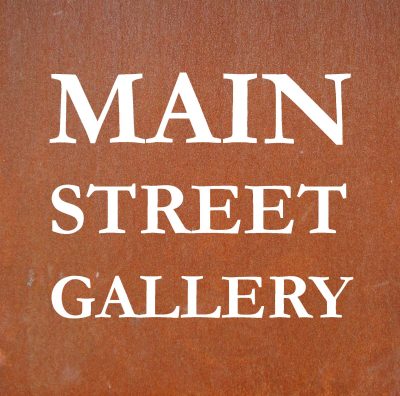 The Main Street Gallery is an art gallery in downtown Ketchikan dedicated to showcasing local Ketchikan artists. In addition to visual arts, there is space for dance groups, poetry readings, plays, and more.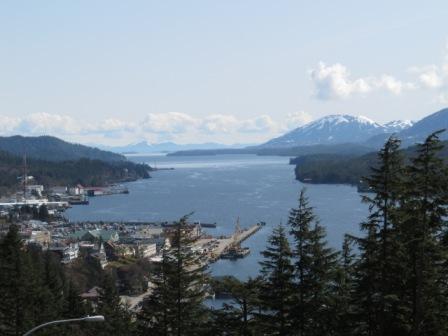 The Rainbird Trail is a fun 1.3 mile hike that offers great views of the city and of Tongass Narrows. You can get to the trailhead (at the University of Alaska Southeast campus) by taxi or by bus. Check out this guide for more info.
Ready for more? View all Ketchikan Tours or check out our list of the best things to do in Juneau, Skagway. Icy Strait, Seward, Denali National Park, Anchorage, and Sitka.
FAQ About Ketchikan
What are the best tours in Ketchikan?
The best excursions in Ketchikan are:
Which Ketchikan excursions are best for kids and families?
Ketchikan is a wonderful destination for children, with lots to learn and explore. The best tours for kids and families are:
Is the Misty Fjords National Monument worth visiting?
Yes! The Misty Fjords National Monument offers some of the most spectacular scenery in Alaska, including lush forests, snow-capped mountains, and abundant wildlife. The best tour is the Ketchikan Deluxe Misty Fjords Tour.
Can I see bears in Ketchikan?
Ketchikan is home to many black bears. The best tours for bear watching are: