Some of the largest creatures in the world's oceans reside in the nutrient-rich waters of southeast Alaska: humpback whales. These gentle giants feed on krill, which they isolate by streaming ocean water through filter-like plates in their mouths called baleen. They often work together using bubble net feeding, where they surround the school and blow bubbles to confuse them and get them to gather conveniently together. It's an unforgettable sight!
The best time to see whales is June through August. Late July and August is especially good, as this is when the humpback whales begin "Bubble Net Feeding" and you can see 10-12 whales jumping out of the water at once.
The best port for whale watching is Juneau. There are so many whales, that seeing whales on your Juneau whale watching excursion is guaranteed. Icy Strait also has abundant whales. You may also see whales on excursions from Seward, via Ressurection Bay or Kenai Fjords.
Read our picks for the best Alaska whale watching tours:
Port: Juneau
Highlights: Whale Watching, Gold Creek Salmon Bake, Live Alaskan Folk Music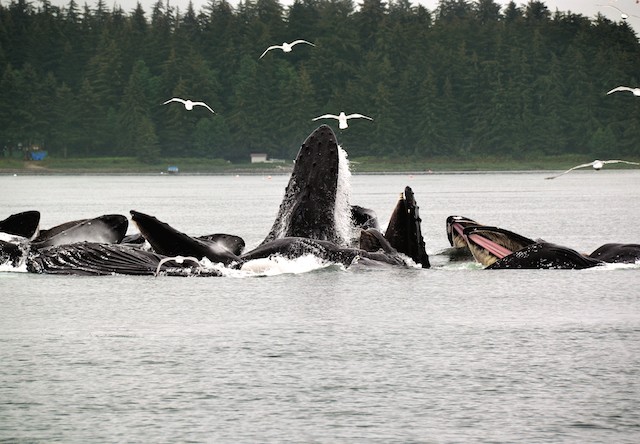 The Juneau Whale Watching & Salmon Bake Combo takes you aboard a jet boat boat equipped with a hydrophone system for listening to whales as they communicate with each other in the water! It's paired with perhaps the most delicious meal you will ever eat, at The Gold Creek Salmon Bake. They've been grilling up perfect salmon for nearly 40 years at this all-you-can-eat adventure, even being featured on Bravo Television's Top Chef. Plus, they'll also have live Alaskan folk music as accompaniment.
Port: Juneau
Highlights: Whale Watching, Glacier Tour, Best Alaska Tour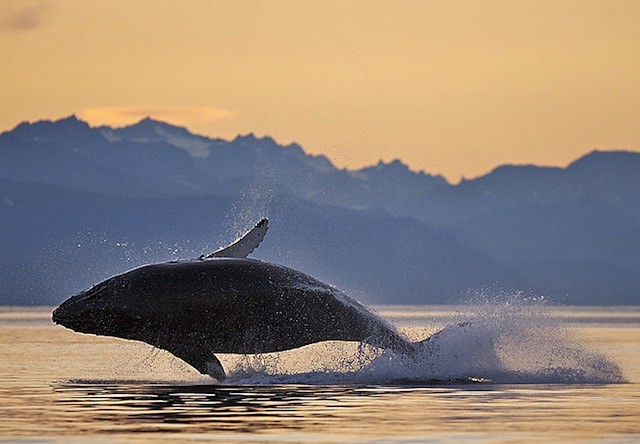 The Juneau Whale Watching & Mendenhall Glacier Tour will get you a mammoth field of ice in addition to enormous sea creatures. Your experienced Naturalist will take you in search of humpback and killer whales, sea lions, porpoises and more in a specially designed boat. Afterwards, you will be shuttled out to the famous Mendenhall Glacier where you can take a hike out toward the ice, check out the Visitor's Center, or just go on a meditative mission to find some soft silt (sand crushed by the ice to near dust.) This is one of the best things to do in Juneau.
Port: Seward
Highlights: Whale Watching, Resurrection Bay, Day Cruise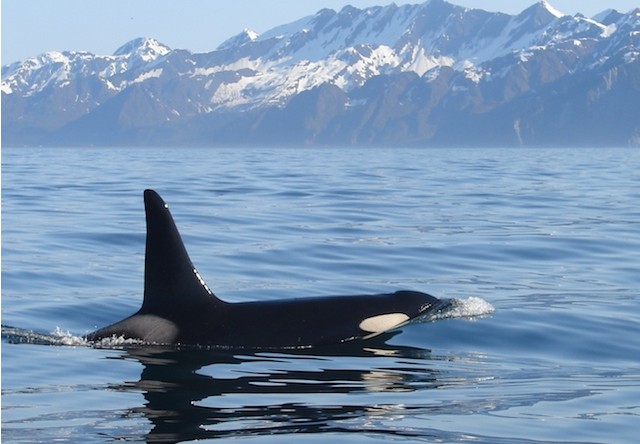 On this 5-hour cruise in the protected waters of Resurrection Bay, you'll enjoy whale watching and opportunities to spot other wildlife, including sea otters, Stellar sea lions, Dall's porpoises, harbor seals, bald eagles, and many types of marine birds. The tour is fully narrated by a National Park Ranger and is the same one that President Obama took on his visit to Alaska in 2015.
Port: Juneau
Highlights: Whale Watching, Southeast Alaska,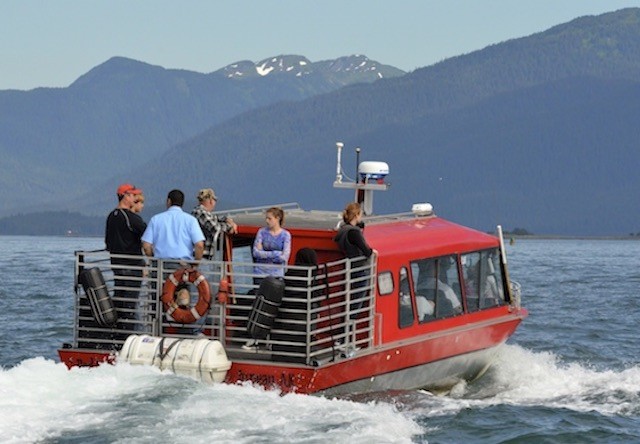 The Juneau Whale Watching Adventure Tour takes you on a tour through Favorite Channel, Stephens Passage, Lynn Canal, or Saginaw Channel in search of Alaska's most incredible creatures. Two outdoor decks provide for up-close viewing as you cruise through the majestic glacier-carved waters of Southeast Alaska. Humpback whales feeding.
Port: Icy Strait Point
Highlights: Whale Watching, Hoonah, Glacier Bay, Wildlife, Hoonah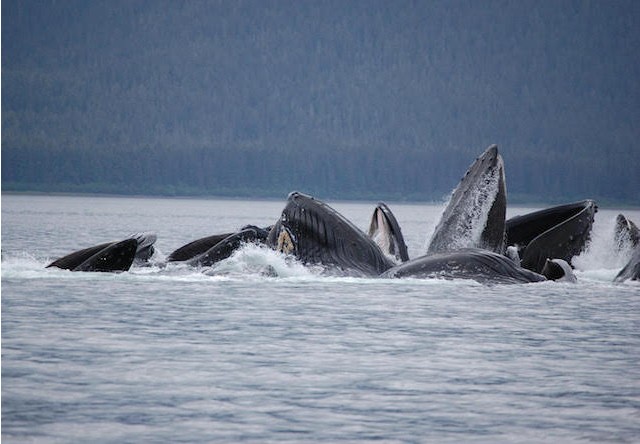 We also offer the Icy Strait Premier Whale Watching Tour, in Hoonah. Humpback whales come there in large numbers to feed on the nutrient-rich waters of Glacier Bay and Icy Strait every summer before migrating south in the winter. Also look out for bears, deer, blue heron, puffins, orca, sea otters and more!
Port: Seward
Highlights: Whale Watching, Kenai Fjords, Day Cruises, Resurrection Bay, Glacier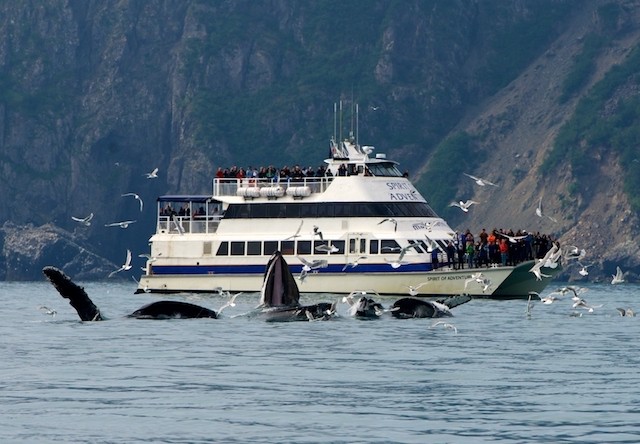 Travel the protected waters of Resurrection Bay and continue around Cape Aialik into Aialik Bay to view Holgate Glacier. Along the way you can watch for wildlife, including whales, and enjoy narration from a National Park Ranger. Onboard, there's an optional all-you-can-eat salmon and prime rib meal. For even more wildlife and whale viewing opportunities, you can also try the 7.5 hour Kenai Fjords National Park Cruise.
Highlights: Whale Watching, Wildlife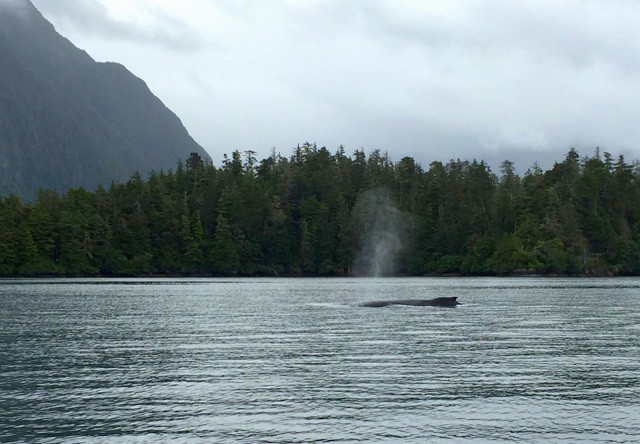 Climb aboard a safe, 26-foot Glacier Bay catamaran on this whale watching tour. This twin-engine vessel with a heated cabin and a sizable deck for open-air viewing, you can relax, get comfortable, and look for whales and wildlife as you cruise the crystal clear Sitka waters.