The best place for whale watching in Alaska is Juneau, because there are so many whales that seeing whales on your excursion is guaranteed. Icy Strait is also very good for whale watching, but there are no guarantees for this port (though most tours do see whales.)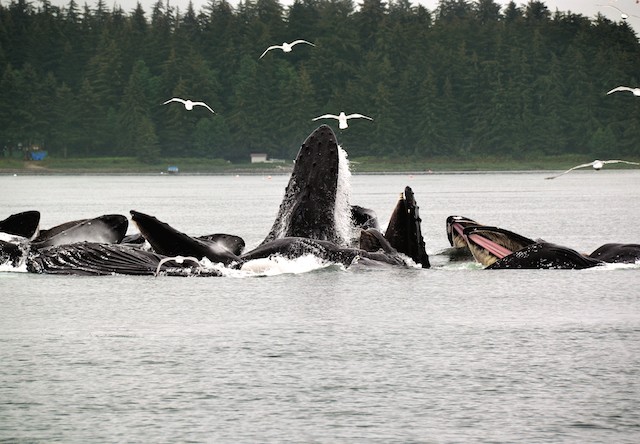 Types of Whales to Expect
Both Juneau and Icy Strait are home to feeding grounds for humpback whales, so there is a large population of whales in both areas. The nutrient-rich waters in Favorite Channel and Saginaw Channel in Juneau are among the best places to see humpback whales in the entire world. These waterways attract the whales all summer long, before they make the long journey to the warming waters of Mexico and Hawaii to breed.
We are able to offer a 100% guaranteed sightings for whale watching in Juneau, because there are so many whales in the area.
There is also an opportunity to see Orca, commonly called Killer Whales, on these tours as well. Orca sightings are very rare as they are very transient and move quickly through the waterways in Southeast Alaska.
Abundant Glacier & Wildlife Views in Juneau
One benefit of whale watching in Juneau is that the area has abundant wildlife and the landscape can include views of glaciers (including Mendenhall Glacier) and lighthouses depending on the exact location of the whales. Whale sightings are guaranteed here.
Enjoy the Peaceful, Remote Icy Strait
One highlight of whale watching in Icy Strait is that the area is extremely remote and there will be fewer boats on the water. (Whale sightings are not guaranteed, though.) In fact, it's one of the best things to do in the area.
Whale Watching in other Parts of Alaska
Whale watching is also very good in Seward on a tour to Resurrection Bay and the Kenai Fjords (or the extended cruise), but whale sightings are not guaranteed here. Whale sightings are also possible in Ketchikan and Sitka, but the chances are much less likely.
Read our picks for the best whale watching tours in Alaska, learn more about whale migration patterns, or check out our complete list of of Alaska whale watching tours.
Alaska Whale Watching FAQs:
1. What are the best Alaska whale watching tours?
Juneau Whale Watching Tours are the most popular, because seeing whales is guaranteed. The Icy Strait Whale Watching Tour is also a popular choice.
2. What is the best port for whale watching?
Juneau is the best port for whale watching, because seeing whales is 100% guaranteed. Icy Strait is also a good choice for whale watching, because whales are abundant (though not guaranteed).
3. When is the best time for whale watching in Alaska?
The best time to see whales is June through August. Late July and August is especially good, as this is when the humpback whales begin "Bubble Net Feeding" and you can see 10-12 whales jumping out of the water at once.