Published: Jan 01, 2021
Last Updated: Nov 30, 2023

Though weather can be hard to predict, especially in Alaska, there are trends that'll help you know what to expect during your summer cruise. So, check the weather before you pack, but these will give you a guesstimate.
The best time for an Alaskan Cruise is May through with September, with the best weather in June and July. In May and September, you can anticipate a few extra rainy days and slightly cooler (though still pleasant!) temperatures. Note that the best times for whale watching are mid-June to mid-August, though you can catch them before and after this, too.
Here is the typical weather during Alaska cruise season:
| Month | High | Low | Rain |
| --- | --- | --- | --- |
| May | 56 | 42 | 15 days |
| June | 62 | 48 | 13 days |
| July | 63 | 51 | 14 days |
| August | 63 | 50 | 17 days |
Juneau Cruise Weather
The capital of Alaska sees average highs in the upper 50's and low 60's in May through August, with September highs averaging in the low 50's. It's much less rainy than the previous two at 62 inches, but it's still pretty common.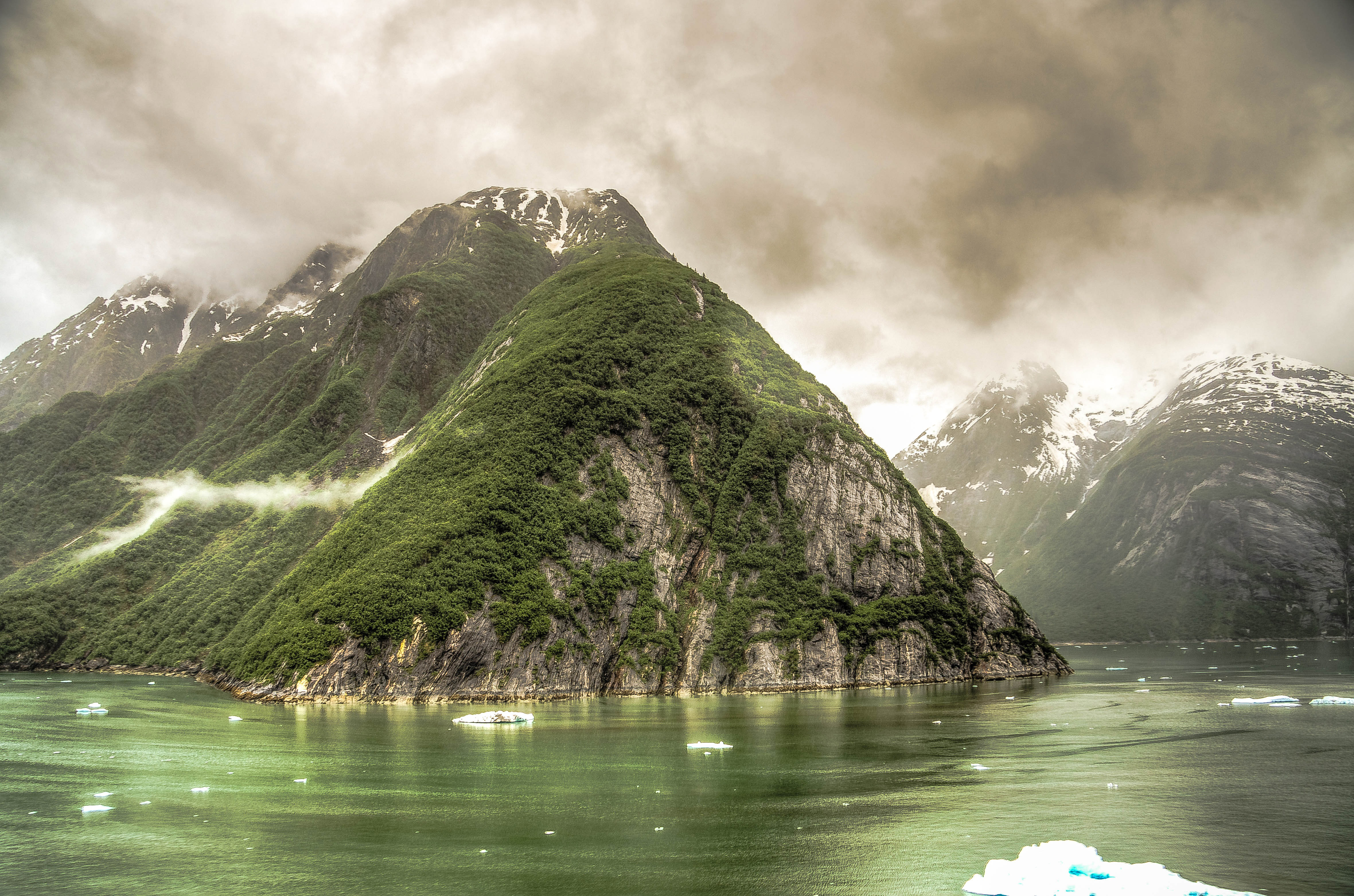 Skagway Cruise Weather
It's a little warmer and a little less rainy in the land of infamous Soapy Smith, with high averages in the upper 50's and lower 60's May through September and an average rainfall of 27 inches annually. (Summers with streaks of temps in the 70's are also not uncommon in Southeast Alaska, so remember a few t-shirts!)
Ketchikan Cruise Weather
Alaska's "first city" is also widely known as the rainiest, with 153 inches per year. (For comparison, Seattle, well-known for it's rain, only gets about 38 inches!) High temperatures during June, July, and August are typically in the mid-60's. The 'shoulder' season of May and September is generally about 5-10 degrees colder.
Ketchikan Rain Gauge, AK (Photo / CC BY)
Sitka Cruise Weather
Still in the heart of the Tongass Rainforest, but slightly less rainy, Sitka gets 131 inches of rain per year. High temperatures average in the high 50's to low 60's from June to September, and low 50's in May.
Icy Strait Point Cruise Weather
This port near Hoonah has average highs in the upper 50's and low 60's in May through September. Same as Juneau, the rain averages 62 inches. If you're taking a shore excursion from here, be sure to check specific packing recommendations.
Seward Cruise Weather
We move northwest from the Tongass National Forest, and into Chugach, which is also a temperate rainforest. The highs average in the upper 50's to mid 60's June-September, though warmer days aren't uncommon. May's highs are in the lower 50's. The average rainfall is 71 inches, with 10 of that in September alone.
Whittier Cruise Weather
The
actual
rainiest city in Alaska is Whittier, at a whopping 185 inches per year! May and September high temperatures average in the low 50's, with June through August seeing average highs in the upper 50's to lower 60's.
Whittier, AK (Photo by arthick photography / CC BY)
Anchorage Weather
The skies dry up as we get to Alaska's most populated city, with an average rainfall of just 17 inches. Temperatures stay comparable with average highs in the upper 50's and lower 60's May through September.
Alaska Excursion FAQ
1. What is the best port for whale watching?
Juneau is the best port for whale watching, because seeing whales is 100% guaranteed. Icy Strait is also a good choice for whale watching, because whales are abundant (though not guaranteed).
2. What is the best port for dog sledding?
There are dog sledding options in many ports, including Juneau, Skagway, and Anchorage. Each excursion typically includes a helicopter ride and dog sledding on a glacier. It's a must do in Alaska, but which port you try it in is up to you.
3. What are the best Alaska shore excursions?
The best Alaska shore excursions are: