Whether you're a foodie or not, the good eats scene has become a force to be reckoned with worldwide. Entire vacations have been planned around one simple bite! Lucky for you, if you're heading to Alaska, you'll find some options that can rival Les Tablettes in Paris or Peter Luger in NYC.
Sure, the food on board is delightful! But allow us to entice and enchant you away for just a few meals along your journey… We'll walk you through our favorite spot in each of the 3 major Alaskan ports visited by cruise ships. Grab a fork, because our first stop is Ketchikan!
Port: Ketchikan
Pull up a chair at The Bar Harbor Restaurant, located right on Tongass Avenue. As a local favorite, The Bar Harbor boasts a warm and friendly atmosphere and delicious eats. We highly recommend the Halibut Tacos or the Fish n Chips to satisfy that Alaskan craving! Go ahead and Yelp it! You'll see testaments of friendly service and a great wine selection! Be sure to stop by Ketchicandies on your way back to the ship for dessert or your midnight snack!
Port: Juneau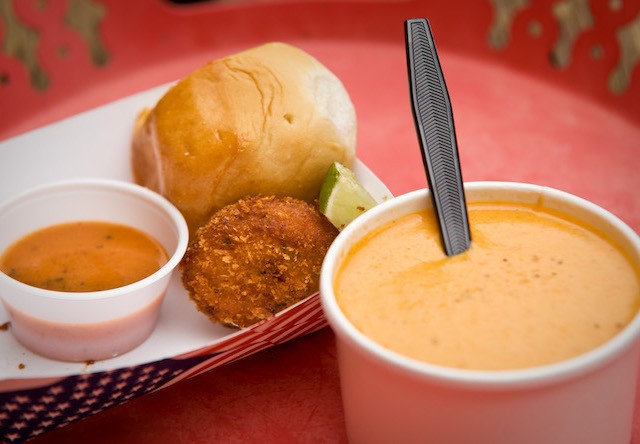 Is there anywhere else we would recommend? Okay, there are plenty of good restaurants in Juneau, the capital of the North! However, not all of them have the same world-famous and Alaskan status as Tracy's. Owned and operated by a local couple, Tracy's is the best Crab Bisque you'll ever try, and comes with buttery rolls that melt in your mouth. Or perhaps you want to try the crab cakes with chili sauce, or tackle a leg? No matter what you choose, this place is the place to be! Trust us. In fact, we'll be right back – we're hungry just thinking about it.
Port: Skagway
Two words – Glacial Smoothies. What a place to end our trek through Alaskan eats! Here you will find espresso, baked goods, bagels, sandwiches, salads, smoothies, and more! While we've strayed a bit from the typical theme of seafood in Alaska, this place is as Alaskan as it gets. Locally owned and operated, and a local favorite to boot. You'll never find this place empty, but the service is quick and reliable. A little tip for you – get the Super Bagel. Don't worry if it's not breakfast time, it's to die for!
There you have it! Our 'best of the best', but we'd love to hear yours, too. Give us a shout if you have a recommendation we should feature next!