Not every traveler likes to stick to the straight and narrow, opting for a rowdier look at Alaska. If you have an adventurous spirit and like to get down to the nitty gritty, how about throwing a little mud on the tires? Give yourself an adrenaline kick with any of these off-road ATV excursions.
Whether you are in a group or self-guided, ATV's are a super fun way to get off the beaten path, see wildlife, and catch a view of those eagles, bears, moose, and deer that make the Alaska such a unique destination. Warning - you will get wet. You will get dirty. You will have the time of your life!!
Read on for our picks for the best Alaska ATV tours:
Port: Denali
Points of Interest: Denali National Park, Alaska Range, Otto Lake, Healy Valley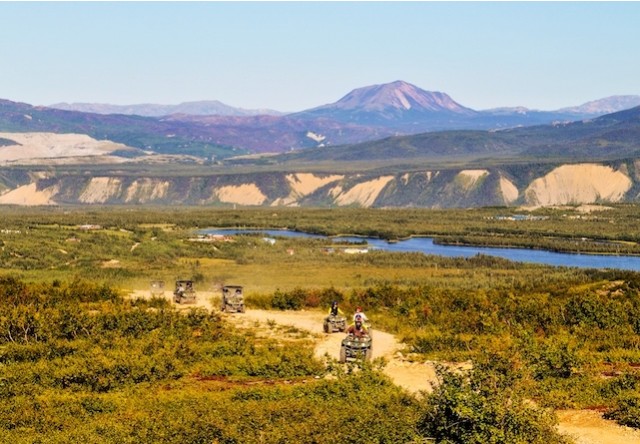 In Denali, you are surrounded by six million acres of wild land, bisected by one ribbon of road. Given this vast expanse and just a single road, one might think possibilities are limited, but Denali is all about the ATV action! The Denali ATV Wilderness Adventure takes visitors on a 2.5 hour exhilarating ride through trails surrounded by the Denali National Park. You will splash through creek beds, and even through some deeper waters if Mother Nature is permitting.
This adventure leads you to breathtaking 360-degree overlook stops with views of the Alaska Range, Otto Lake and the Healy Valley. Rumor has it, there are often moose on the trail, giving you an up-close-and-personal Bullwinkle experience. Flying squirrels not included.
Port: Denali
Points of Interest: Alaskan Boreal Forest, Alaska Range, Denali National Park
Distance: 20 miles of ATV trails and 2.5 hours driving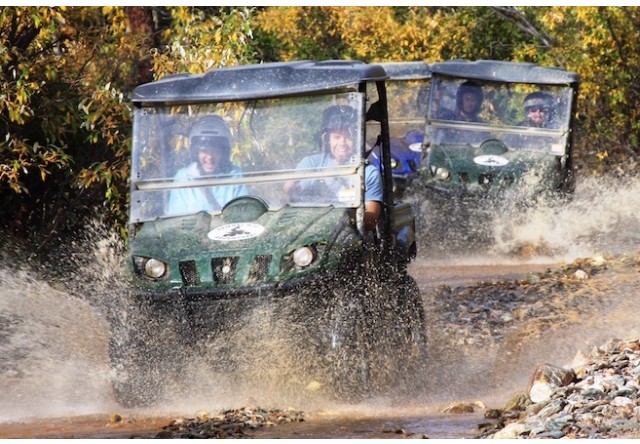 A slightly more daring option to get off-road is the Denali ATV Trailblazer Tour. This tour is definitely for the more adventurous traveler, boasting the most riding time of any other ATV tour in the area. You'll hop on your single-rider ATV, or 2-passenger side-by-side and rumble off to the Alaskan Boreal Forest! Traveling at speeds up to 30 mph, guests maneuver through the taiga to picturesque panoramas of the Alaska Range.
You'll observe glacial moraines and historic archeological dig sites while navigating tree-rutted trails, mountain-fed creek beds, and boggy tundra. That's right, folks - boggy.
Port: Denali
Points of Interest: Denali National Park
Distance: 10 miles of ATV trails and 1.5 hours of driving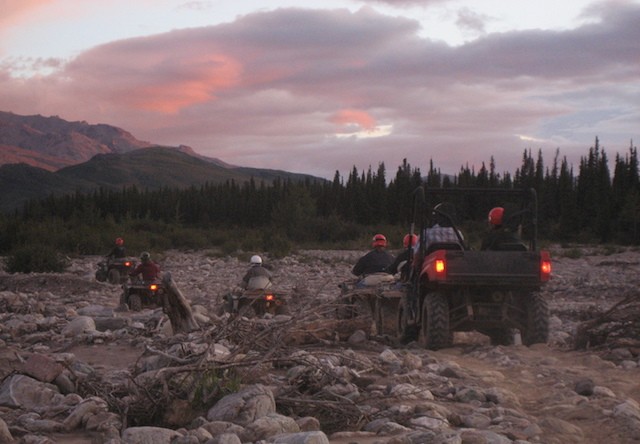 If the expanse of the sun sinking into the horizon is your ideal way to end a day of adventure, the Denali ATV Midnight Sun Tour will make all of your hopes and dreams come true! Departing evenings at 9pm in June and July, riders cruise through 10 miles of illuminated forest trails as the prolonged sunsets bathe the mountains in rosy alpenglow. You can go ahead and let out that romantic sigh now. Bring your sweetie, or treat yourself to something really special. Maybe even a sunset proposal...
Port: Ketchikan
Points of Interest: Tongass National Forest, Inside Passage, Behm Canal, Obstacle Course
Distance: 1.5 hours kart driving with stops at overlook and waterfall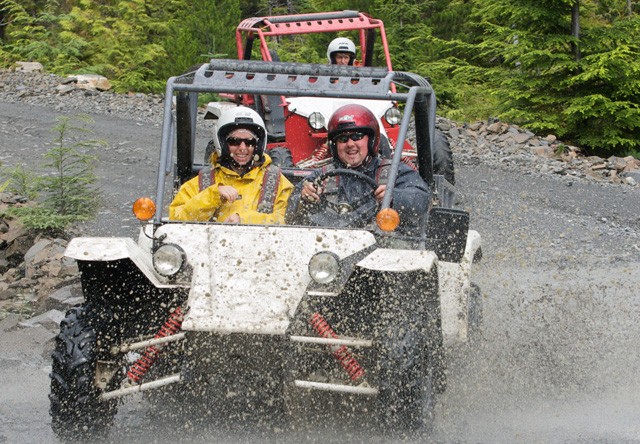 When your journey finds you in Ketchikan, hop on with Ketchikan Adventure Kart Expedition and feel the rush of adrenaline as you start this tour with a fun and challenging obstacle course in a custom designed Tomcar. As your ride carries you on to the remaining wilderness, a comfortable pace is maintained as you thread your way around steep curves, climbing to unparalleled views of the Tongass National Forest, Behm Canal and Alaska's fabled Inside Passage. In other words, get ready for a fun ride fit for just about anyone.
Port: Skagway
Points of Interest: Yukon Territory, Fjords, Davidson Glacier
Distance: 1.75 hours of driving (plus lunch on the beach and a scenic cruise!)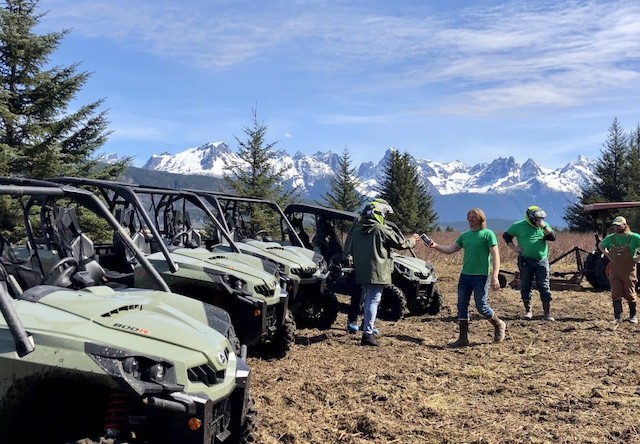 And finally,on the Skagway Glacier Point ATV Exploration you'll venture into the Yukon Territory when you kick off with a 1-hour boat ride where an informed naturalist will point out the stunning views and facts as you cruise over the world's second-largest fjord system. Once you dock in Glacier Point, safety guides will greet you and take you through a tutorial and fit you for gear. Before you know it, you are tearing up the trails with the mighty Davidson Glacier as your backdrop. Not too shabby!
Some travelers enjoy the popular tourist spots, and some like to shake it up a little. There is something for everyone at each port stop and we encourage you to let your adventurous spirit be your guide, and treat yourself to something a little outside the box. Book your tour early, as these are small group tours, and they do sell out fast. Get grubby and have a blast!