Published: Jan 01, 2021
Last Updated: Nov 30, 2023

Experiencing the majesty and splendor of an Alaskan glacier is a must-do activity in Juneau and surrounding ports. Rugged crevasses, azure blue ice, and the sheer expanse are humbling and awe-inspiring, giving you glimpses of what the Ice Age was like.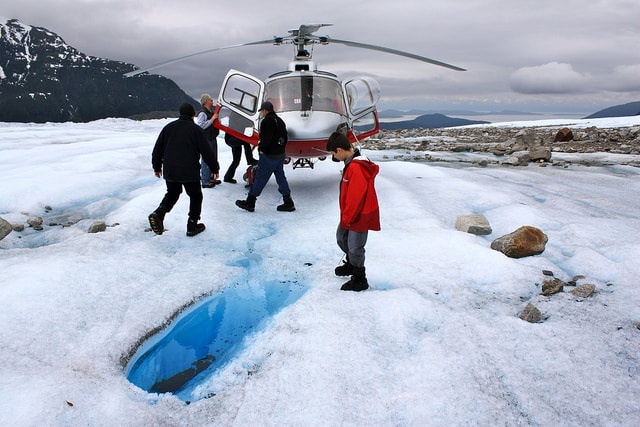 Juneau Icefield (Photo by Robert Raines / CC BY)
Destinations to Know Before You Go
Before you plan your glacier tour, get familiar with these common destinations.
The Juneau Icefield
The Juneau Icefield extends more than 1,500 square miles and is home to nearly 40 large glaciers, including the famous Mendenhall Glacier and the Taku Glacier.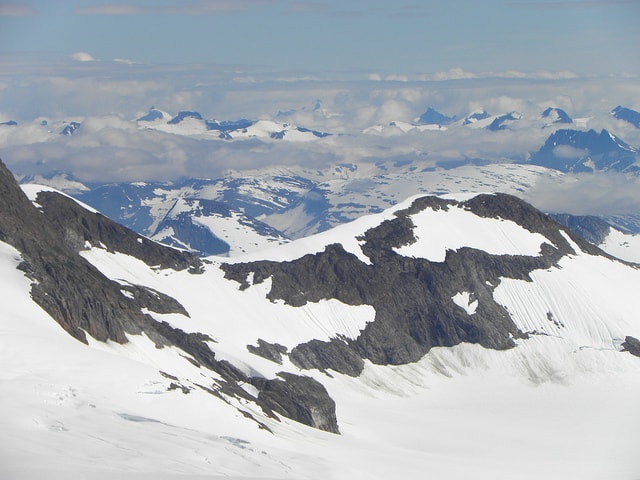 Juneau Icefield (Photo by USDA Photo Service Alaska / CC BY)
Mendenhall Glacier
Mendenhall Glacier tours are very popular. The visitor's center offers stroller and wheelchair-accessible trails that lead to photo-friendly viewpoints. Whether you have 45 minutes or a few hours to spare, you can count on beautiful views. When you visit Mendenhall, you'll view the glacier from across a lake. Getting there involves an easy shuttle ride.
Recommended Juneau Tours: Juneau Whale Watching and Mendenhall Glacier Tour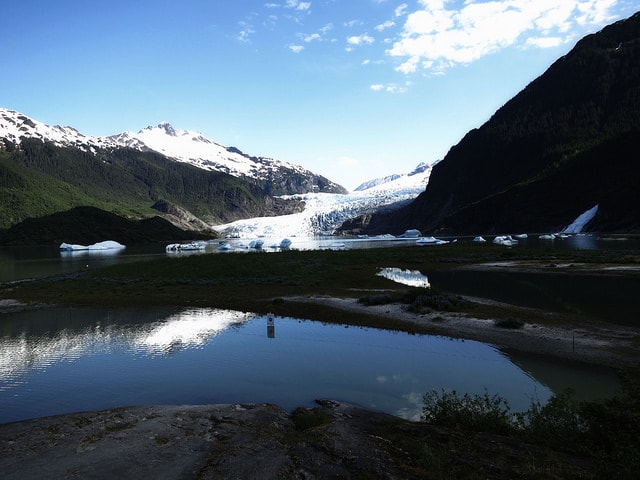 Glacier View from Photo Point Trail (Photo by Camera Eye Photography / CC BY))
Taku Glacier Lodge
Most visitors to Taku Glacier head to the Taku Glacier Lodge, which sits directly across from the glacier, and do a food tour. Visits usually include an all-you-can-eat Salmon dinner with local Alaskan Salmon, followed by time to look for wildlife as you explore the surrounding forest trails. Getting to the Taku Glacier Lodge has a splash of adventure -- you'll travel via floatplane.
Recommended Juneau Tour: Juneau Taku Lodge and Flightseeing by Floatplane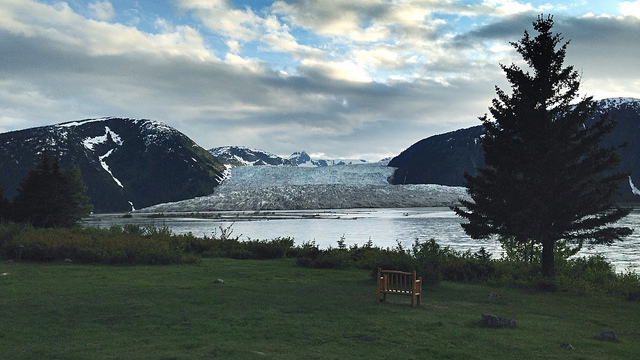 Taku Glacier Lodge (Photo by Shelby Bell / CC BY)
Skagway White Pass & Yukon Railway
Take a gentle ride along Skagway's White Pass Railroad, catching glacier views as you learn about Klondike Gold Rush history. You'll also see beautiful mountain views, waterfalls, trestle bridges, and gorges as you ride the train tour to White Pass Summit.
Recommended Skagway Tour: Skagway White Pass Railroad Summit Excursion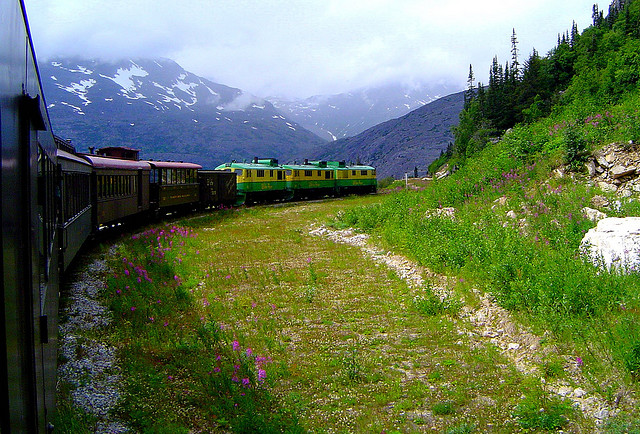 Stunning views from the White Pass Railroad. (Photo by naturesdawn / CC BY)
Glacier Adventures
More adventurous travelers can take their Alaska glacier tours to the next level with dog sledding, helicopter, and even canoe tours.
Helicopter Glacier Tour
Ride above the million year-old glacial icefields on a helicopter tour for breathtaking views of mountain peaks, rainforests, glaciers, icefalls, ice spires, and vibrant blue icy crevasses. You'll have the chance to land on top of a glacier and walk along its surface.
Recommended Juneau Tour: Juneau Icefield Excursion
Recommended Skagway Tour: Skagway Glacier Discovery via Helicopter
---
Helicopter and Dog Sledding Glacier Tour
Get all the amazing views of a helicopter glacier tour, and add in the thrill of a dog sled ride. You can travel to a remote musher's camp and let 10 Alaskan Huskies pull you along one of Juneau's glaciers. You'll create unforgettable memories as you experience a glacier from high in the sky and gliding along its surface.
Recommended Juneau Tour: Juneau Dog Sledding Tour
Recommended Skagway Tour: Skagway Dog Sledding and Glacier Flightseeing Tour Via Helicopter
---
Ride and Paddle Glacier Expedition
For a spellbinding expedition, check out Davidson Glacier in Skagway. You'll start with a comfortable boat ride, catching breathtaking views of mountains, wildlife, and glaciers, heading toward Glacier Point beach. Once there, you'll take a short, adventurous drive across the forested glacial morianes to the base camp, where you'll board a 31-foot voyager canoe for more views and exploring. It all wraps up with a picnic on the beach before you head home.
Recommended Skagway Tour: Skagway Glacier Point Excursion to Haines
---