One of the ways to commemorate your Alaskan adventure is by purchasing souvenirs; but with all of the options, what should you look for? While many folks love novelty trinkets -- "Alaska's state bird mosquito catcher" anyone? -- there is also a wealth of traditional Alaskan souvenirs to choose from, with many supporting local artists and vendors.
It's easy to tell what's made in Alaska due to the popularity of Made in Alaska stickers found on local wares. Also look for signs noting that the establishment is owned by Alaskans, you're likely to find more authentic choices and the local economy benefits rather than out of state corporations. Traditional Alaskan souvenirs come in a variety of price ranges and there's all kinds of things to choose from.
1. Ulu Knife
The most popular of these has to be the Ulu knife. With its strange curved blade you might think it's not the most functional of souvenirs, but it's actually a very handy kitchen tool. Ulu knives are often sold with curved cutting boards and the combo makes for stellar chopping. The knives come in a range of prices and qualities, from handmade ulus with beautiful carvings on the handle to the trinket variety that can be found for under $20.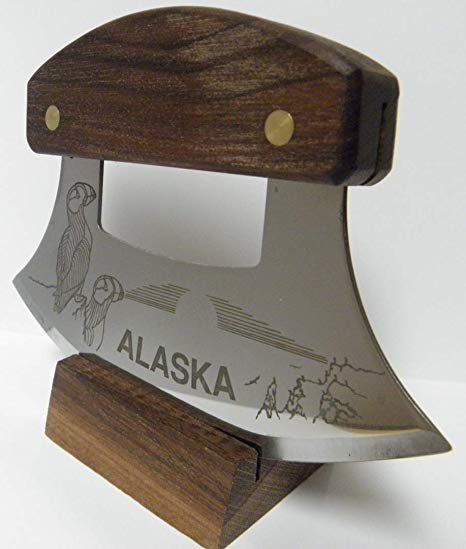 Alaskan Ulu Knife (Photo by The ULU Factory / CC BY))
2. Matryoshka Dolls
Alaska was part of Russia until 1867 when then Secretary of State William Seward purchased it for $7.2 million. He was mocked for buying this "expensive ice box" but we all know he got a golden deal… Russia's influence is still seen throughout the state, often in form of matryoshka dolls, more well-known as nesting dolls. You can find them in a range of prices as well as themes, from the traditional to the hilarious.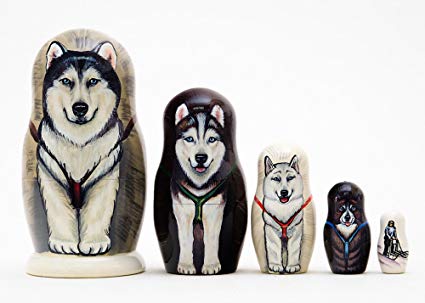 Sled Dog Matryoshka Doll set (Photo by Golden Cockerel / CC BY))
3. Local Fish, Jams, and Jellies
Taking some of Alaska's favorite fish home with you is a very traditional souvenir, and a tasty one at that. You can find it smoked or canned at most gift shops. Also keep your eyes peeled for jams and jellies made from hand-picked Alaskan berries. Furs are also an au-natural choice, ranging from the cozy and functional to the novelty -- unless you know where to where a fur string bikini?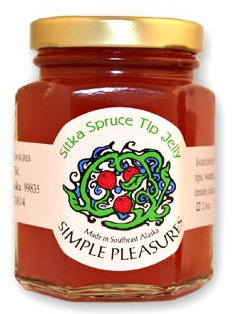 Sitka Sprucetip Jelly (Photo by Alaska Simple Pleasures / CC BY))
4. Native Alaskan Art
Of course, you can't get more traditional than Native Alaskan art. The array of beautiful things to choose from can be overwhelming, in the best way. All of the previously listed items can be found created by Alaska Natives, but that's just the beginning. Native jewelry is exquisite, with etched totem patterns on silver, or made with materials like ivory, or soapstone. Carvings on the former are also very popular. Also look for prints, bear's bread paintings, and other treasures; like a scarf made from qiviut, the warm underwool of the musk ox.