Misty Fjords National Monument is a quiet, pristine protected wilderness area in Southeast Alaska, near Ketchikan. Its rugged landscape is breathtaking, featuring mountain views, fjords, forest, and wildlife, making a visit one of the best things to do in Ketchikan.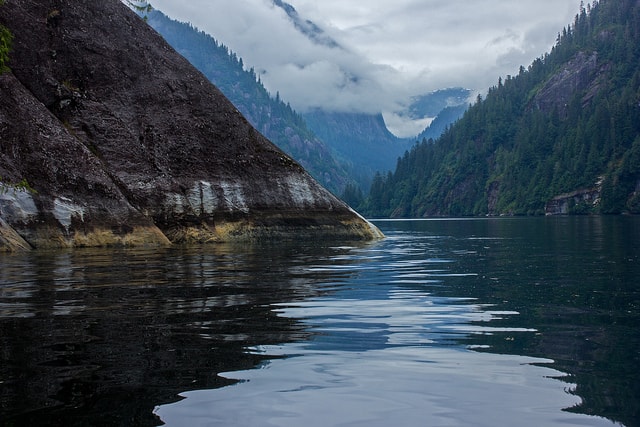 Misty Fjords near Ketchikan, AK (Photo by Mark Byzewski / CC BY)
The area is inaccessible unless you're traveling by boat or by plane. Most visitors choose to experience its magnitude and beauty from above, traveling via floatplane.
What to Expect When You Visit
You'll be given a headset at the beginning of the tour, so you can listen as your pilot narrates the trip, pointing out views and sharing the history of the area.
On a Misty Fjords tour, You'll fly over the Misty Fjords National Monument, taking in the views of cascading waterfalls, majestic fjords, jewel-like lakes, and abundant wildlife, like bears, deer, wolves, moose, and bald eagles. Some of the scenery (like the 1,000 foot waterfall flowing from Big Goat Lake) is only visible from the air.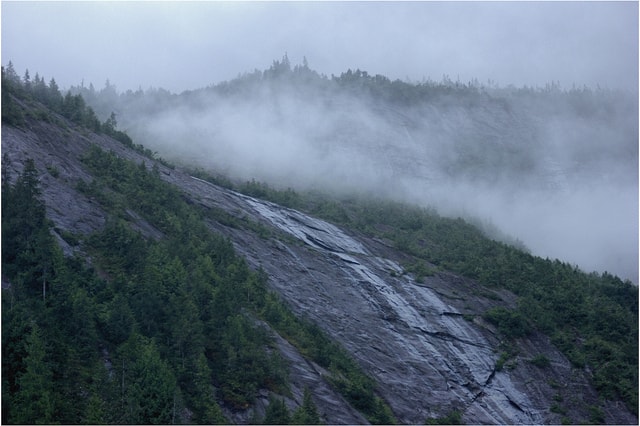 Another View of the Misty Fjords near Ketchikan, AK (Photo by Mark Byzewski / CC BY)
The experience culminates with a landing on a fjord, where you'll be able to step out onto the pontoons and take in the fresh mountain air. Peaceful and serene, this is many people's favorite part of the trip (and their favorite part of their visit to Ketchikan as a whole).
A Little Background
A fjord is a long, narrow, deep inlet of the sea bordered by high cliffs, usually formed due to glacial erosion. The Misty Fjords area has near constant precipitation, causing the mist. The Misty Fjords National Monument is the largest wilderness area in Alaska's National Forest, extending 2.3 million acres. It was designated as a national monument by President Jimmy Carter in 1978.
Recommended Tour

We recommend the Ketchikan Deluxe Misty Fjords tour. It's 2 hours round-trip from downtown Ketchikan and includes a majestic fjord landing.